Quality sprinkler repair in Hallandale Beach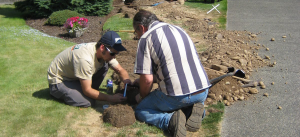 Our Hallandale sprinkler pros are intimately familiar with just about every aspect of sprinkler installation. From the drawing board to your backyard, we will put quality, effectiveness, and efficiency at the forefront when it comes to your new sprinkler system.
Why a New Installation?
A new installation is the best way to start fresh from the ground up. Our installation will cover every base when it comes to efficiency, and product performance. A new installation will allow you to get the best out of every component of your home irrigation system. From brand new smart water controllers to rust resistant piping, you can count on our installation for a complete transformation of your backyard.
How Do I get Started?
Call us Today for a free consultation. On of our hallandale experts are happy to answer all of your questions, as well as provide any information on every step of the installation process. Start to finish.
What's the Plan?
We start with the customer. We will make our custom computer modelled plan exactly based on what you want out of your yard and sprinkler system. We like to think of it as our expertise complementing your vision. From there, our experts will take the wheel to install the system of your dreams.
When can I Get A Consultation?
You make the call, and we'll be ready. Our Hallandale Pros are ready to answer any question you have. Our free consultations are guaranteed to fit your schedule and provide a pressure free environment. Call us today, and we will make any appointment to fit your schedule.
Where Did My Water Bill Go?
After you have a new system installed by our residential irrigation contractors, you may wonder if you need a set of reading glasses after seeing your water bill. That's no typo. Our customers routinely see water savings of 30-40% or more! Resulting in monthly savings for life!
Schedule your free, no pressure consultation today!